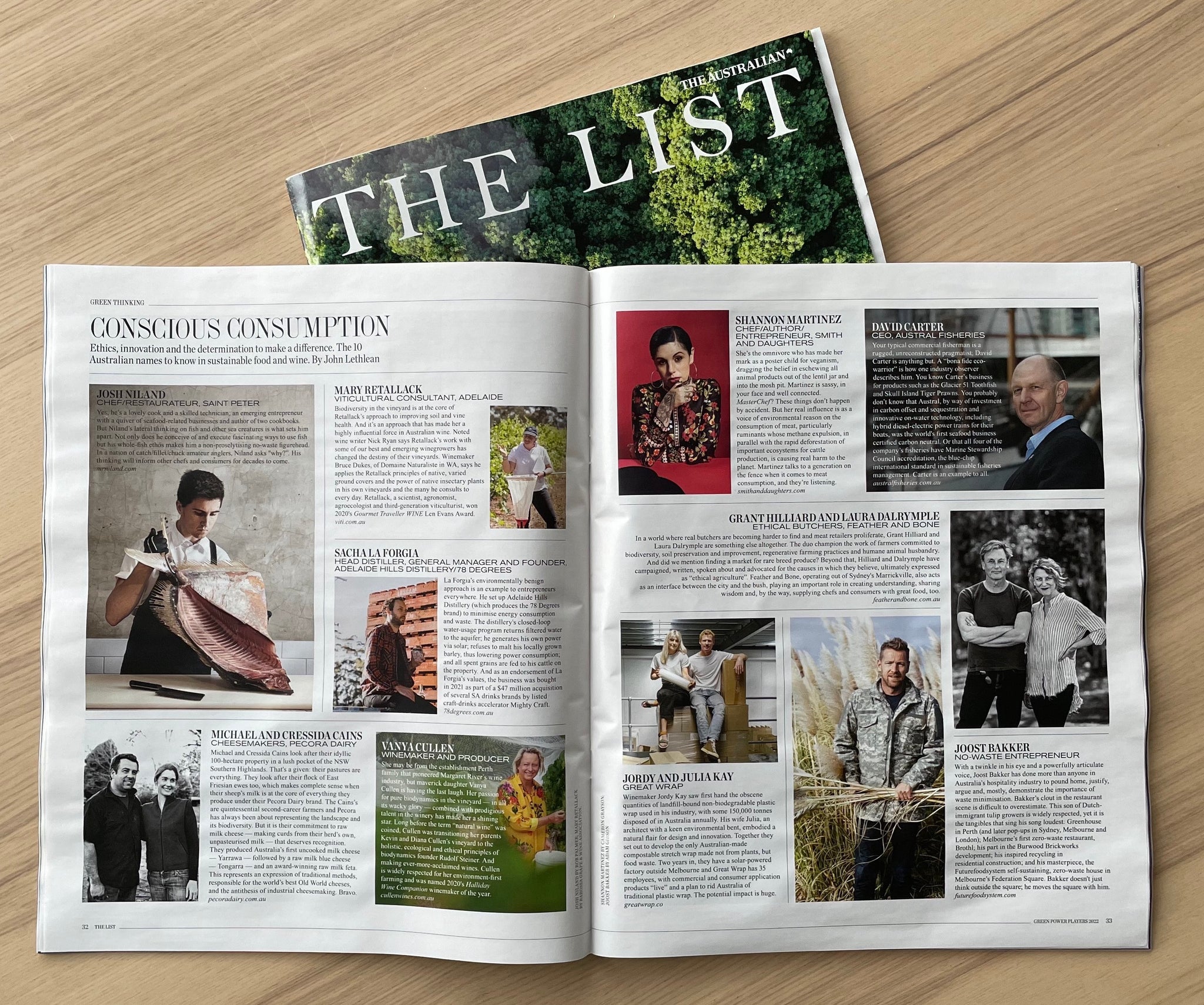 100 Green Power Players
Yes, it's a list, but we're proud to be included in the food section of The Australian's inaugural List of 100 Green Power Players.  We're in the 'Green Thinking' section and the food list is curated by John Lethlean. It's called:
'Conscious Consumption: Ethics, innovation and the determination to make a difference. The 10 names to know in sustainable food and wine.'
The Oz is trumpeting this list as 'Power Players of 2022' but, as far as we can see, the only power many of them are interested in is renewable and what really turns them on (pun intended) are visionary ways of harmonising our relationship with nature.
For the record, we had no prior knowledge about the list. We're uncomfortable about rubbing shoulders with the likes of Angus Taylor whose views and actions we don't support and we're doing a lot of Grace Tame side-eyeing, but after 15 years banging on about regenerative agriculture we can't pretend it's not nice to be acknowledged. 
Anyway, we're very honoured to be among the list of food people. Here's the bit about us.
"In a world where real butchers are becoming harder to find and meat retailers proliferate, Grant Hilliard and Laura Dalrymple are something else altogether. The duo champion the work of farmers committed to biodiversity, soil preservation and improvement, regenerative farming practices and humane animal husbandry. And did we mention finding a market for rare breed produce?
Beyond that, Hilliard and Dalrymple have campaigned, written, spoken about and advocated for the causes in which they believe, ultimately expressed as 'ethical agriculture'. Feather and Bone, operating out of Sydney's Marrickville, also acts as an interface between the city and the bush, playing an important role in creating understanding, sharing wisdom and, by the way, supplying chefs and consumers with great food, too."
The others on the 2022 food list are Josh Niland, Joost Bakker, Shannon Martinez, Michael and Cressida Cains (Pecora Dairy), Vanya Cullen, David Carter (Austral Fisheries), Jordy and Julia Kay (Great Wrap), Mary Retallack, Sachala Forgia (Adelaide Hills Distillery).