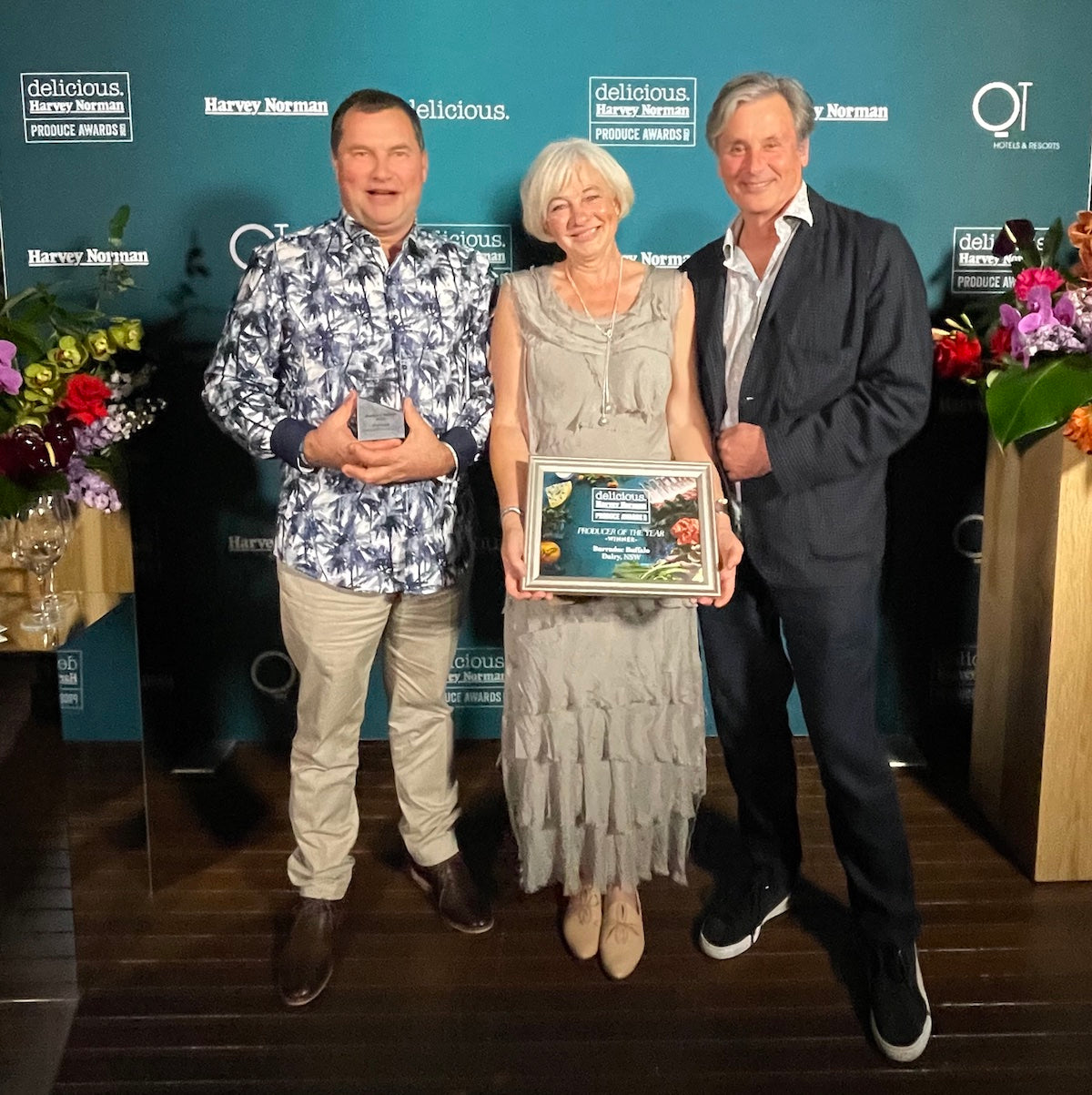 Burraduc Buffalo Dairy win 2023 'Producer of the Year'!
Last week, Burraduc Buffalo Dairy won the coveted 'Producer of the Year' Trophy in the 2023 Delicious Awards!
Here's Elena and Andrei Swegen at the awards presentation with Mr Bone in attendance.
The Swegens have only been producing at commercial scale for about eight years so winning best producer in the country is pretty precocious, but not surprising once you try the products and learn about their compassionate dairy model and land management practice.
As we know from working with regenerative farmers for 17 years, truly delicious food comes from farmers who care as much - or more - about soil vitality as they do about animal vitality because they know you don't get one without the other.
We started working with Burraduc in May 2017 after we tried their wonderful mozzarella and then we visited the farm and that was it, we were completely smitten. Clearly we're not alone.
(Read the case study about Burraduc in our 2020 book, The Ethical Omnivore.)
delicious. Editor-in-Chief Krysia Bonkowski said:
"The judges were united in their praise of Burraduc Buffalo Dairy, deeply impressed by both the consistency and quality of its produce. Critically, this was matched by the producer's commitment to sustainability, livestock management and innovation, making them a unanimous choice for Producer of the Year."
The range of Burraduc Buffalo products includes milk, yoghurt, feta, curd, kefir, mozzarella, cultured cream and ricotta and it's all, um, delicious. 
A natural pause
These awards are always announced in late August which, for many farmers, is between seasons and stock can be pretty scarce, particularly for small, artisan operations like Burraduc. This is perfectly normal and predictable but not ideal when you win a gong like this one and everyone's clamouring to try your fabulous products.
So if you're seeing 'sold out' on these products in our online shop and not much on the shop shelves, don't fret, it's a natural cycle. Please check in on Fridays when the Burraduc delivery arrives, and be heartened that Spring is on the doorstep and soon the buffaloes will have more milk to share with us.
All the winners
We're proud to say that over the last 17 years, the producers we represent are often in the Delicious Award Winners' line up. This year, Diemens Ridge English Longhorn beef from Tasmania took out the State winner, putting them in the running for a national award.
Not to diminish the importance of awards, but as we say every year, we think all the producers we source from are working to the highest standard. 
They grow wonderful, nutritious food, build healthy soil, foster biodiversity and revitalise the landscape, genuinely offsetting the impacts of climate change. That work benefits everyone and makes us all winners too.  
Congratulations to all the other 2023 Delicious winners and here's to all the regenerative farmers choosing farm with nature.
The more support we give them, the better for all of us. 
Read the full list of Delicious Award judges and winners here.
Just on that Gerry Harvey thing...
Promoting Harvey Norman in the same sentence as celebrating wonderful regenerative farmers is a bit like eating Durian, you have to deal with the odour to get to the fruit. (Yes, this is the same Gerry Harvey who refused to re-pay $22 million in jobseeker despite more than doubling profits during the pandemic.) But the awards are important and need to be funded somehow. So until a more ethical billionaire steps up as an alternative sponsor, we're stuck with holding our nose and swallowing.