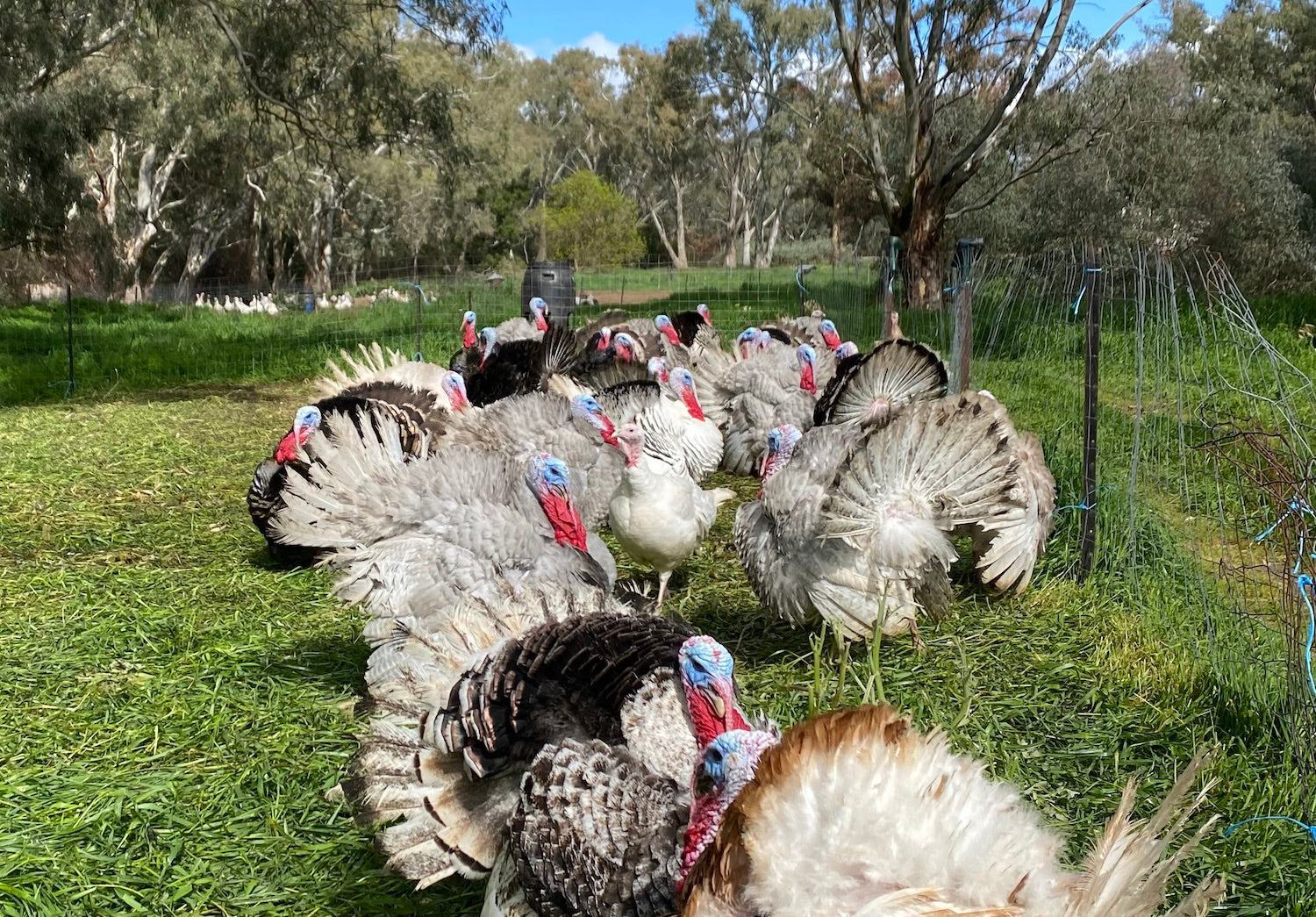 Daryl Deutscher's heritage turkeys
The only heritage-breed turkeys available in the country!
Unlike fast-growing, commercial turkey breeds, heritage breed turkeys grow slowly and naturally and thrive ranging free outside in cooler climates. The benefits of slower maturation, a more free and active life and a more complex diet that includes plenty of grasses and insects, results in a well-proportioned bird with finely textured, flavoursome meat and a higher fat content.
Daryl Deutscher is an unsung hero of the Australian poultry industry. As well as being our only heritage-breed turkey farmer, he's pioneered a unique turkey breed and is also one of only a handful of small farmers who are breeding, growing and slaughtering on farm.
In Australia, the poultry industry has succumbed to the same fate as other food groups as producers reject the slow-growing complexities of heritage breeds for the economic efficiencies of a few, super fast-growing, hybrid varieties. With the exception of four or five small farms like Grassland Poultry who grow a variety of heritage-breed chickens for local consumption, Australian meat chicken is a genetic monoculture of commercial White Broilers. 
And when it comes to Australian heritage breed turkeys, Daryl Deutscher is it.
As a child, Daryl was was captivated by the turkeys his uncle grew, and this fascination has been with him ever since. Growing up on a wheat and sheep farm in the Wimmera region of North West Victoria, young Daryl had the option of inheriting the family farm, but he was bitten hard by the turkey bug so he bought an 80 acre farm at Dadswells Bridge on the Melbourne/Adelaide road and started growing turkeys instead.
Now 73, he's been actively breeding and raising turkeys for 50 years and he has customers who have been with him the entire time, like Frank, now 91, who buys two live turkeys at the start of every September that he grows out for Christmas dinner. These days, Frank's son drives Frank and his wife the 140 km from Charlton to pick up the birds because Frank finds the drive a little tiring.
Here's Daryl (left) and Frank who arrived on the day that Grant was visiting.
Daryl's Dadswells Bridge farm stretches across picturesque river flats where he runs a sizeable operation of 4,000 hens - the heritage breeds are his passion but he also buys in one day-old commercial turkeys to prop up the heritage side of the business. The turkeys roam under lovely old River Red Gums, enjoying the cool, wet climate.
Unlike fast-growing, commercial turkey breeds, heritage breed turkeys grow slowly and naturally and thrive ranging free outside and they're happiest, grow well and put on condition during the cooler months of the year. This is why Deutscher Heritage Turkeys are harvested in peak condition in winter and snap frozen for us to enjoy on our summer Christmas tables.
In addition to being Australia's only heritage turkey breeder, Daryl also slaughters on-farm which means the birds' entire life cycle occurs in one place. This is extremely rare.
(Most table birds are dispatched from large, commercial breeders as day-old chicks that are grown out by farmers. There are only a handful of small farmers who are both breeding and growing commercial volumes of table poultry in Australia and even fewer who are also slaughtering on-farm.)
Daryl's trove of turkey genetics is unique in Australia and, as it turns out, the world.
Almost accidentally, Daryl bred a unique strain of painted turkeys with blue eyes which has been confirmed by the Kansas-based, world expert on turkeys to be not just a new strain, but a unique, stable breed. So now there's an Australian turkey along with all the American breeds and some European crosses.
As well as his original breed, Daryl also grows Painted turkeys, Bourbon Reds, Slates, Blue / Blue Palms, Painted, Royal Palms, Blue paints, Crimson Dawns, Black Wing Narragansetts, Cinnamons, Oregon Greys, Sweet Grasses and White and Black.
Some interesting heritage turkey facts.
Heritage turkeys are highly cannibalistic, so Daryl does daily rounds to check for any sick or injured birds. Injured birds are separated until they heal, then reintroduced to the flock.
This cannibalistic tendency may be due to turkeys' very high protein requirements - 30% higher than chickens.
Turkeys are capable of parthenogenesis and it is estimated around 4% of eggs are self fertilised by the hen.
All photos taken at the farm by Grant on his visit in September.