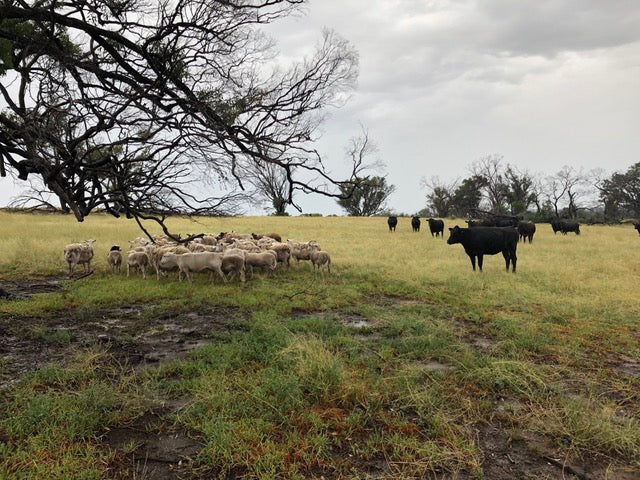 Drought report: Gundooee Organic Wagyu, November 2018
As the extreme weather across the country continues, the air waves are choked with heartbreaking stories of farmers brought to their knees and struggling to cope. From the city, it's hard to get a clear perspective on the scale of hardship, the causes and the possible solutions. So last November, in response to media reports of farms in crisis due to the drought, we decided to seek some perspective from the farmers with whom we work. Before you read their reports, we'd encourage you to read our introduction - 'Grass roots response to drought'.
We've checked in with all of the farms over the last month and it's sobering to note that little has changed since November 2018.
Gundooee Organic Wagyu
Farmer: Rob Lennon
Location: Leadville, NSW, 2844
Produce: Wagyu cattle
We started buying Gundooee cattle in June 2010
6 November 2018
When did you start to realise that this drought would probably be prolonged and very serious?
Coming into winter 2018. By the end of May, we had only had 6 inches of rain - this is only about half our average annual rainfall (and about a quarter of our effective pasture-producing rainfall).
When did you start to take mitigating action against this drought?
Drought preparedness is on-going, and begins for me during the 'recovery period (from the previous drought). My mitigation starts when I feel the livestock are being disadvantaged.
What are the main actions you've taken and strategies you've followed?
Understanding the animal's requirements is paramount - these include (but not limited to) feed, water and shelter. As far as the cattle are concerned, they are actually not ever really in a drought, as their needs are not lacking…only I am the one in drought.
What are your priorities during this period and what are your objectives (e.g. maintain a core breeding stock, maintain ground cover etc.)
With the livestock, my particular business does not allow for reduction in stock numbers (because I can't purchase my sale cattle anywhere due to their uniqueness), so finding agistment is the first objective - I trucked the 86 cows to Roma in May (just prior to the commencement of calving). In regards the paddocks, soil health remains my greatest farming priority, so retention of ground cover (for all the usual reasons) is indeed another major drought objective.
What are the main challenges you've faced during this drought? (e.g. retaining ground cover, dealing with kangaroos etc)
Australia is a dry and drying continent, so I know my drought preparedness must be solid - I have mainly copra, hay and grain in reserve for their feed supplement, and all paddocks have water troughs so the cattle have water security also (bore water). As we stock lightly, ground cover is usually maintained - this drought is different for us however, as the pasture recovery from the fire in February 2017 has not yet occurred, and we still have bare soil areas in the paddocks. The new exclusion fence has vastly improved the issue of native stock grazing the pasture paddocks (and ruining the 'rest phase').
Have you witnessed or learned anything particular over the last year that has changed or reinforced your thinking?
Stocking lightly, making decisions early (bite the proverbial bullet) and retaining ground cover is the 'tried and tested' strategy here at Gundooee, and reinforced again this drought.
How would you describe what you do and the contribution you make to Australian agriculture?
Crikey - big question. I will assume you already know what I do. The contribution I would like to think I make to Agriculture is to make available Gundooee beef (and for all the reasons), and to spread the good word to consumers about what quality food is, how it is grown and some tools for its' acquisition in the market place.
What do you think the 'City' - consumers, retailers, policy makers - should be doing in times of drought?
I see drought as a great opportunity for city dwellers to connect with farmers, because when food inevitably becomes harder to source, food production naturally becomes topical. They could also show acknowledgement of (what we farmers hope is) their appreciation of what we do…and in whatever form they choose to show it.
Postscript 8 March 2019
Having re-read the response I wrote in November, I am happy that it remains true and correct. Further update is that whilst there was some better rain over summer for us here, we have since gone for over 6 weeks without rain again, so no green feed. I have some standing feed remaining as all my cows are on agistment in Queensland, and I'm desperately trying to facilitate a recovery for my soils from the fire*. I am heading up now to Queensland to draft the calves off (early weaning).

Finally, I wish to thank F&B for taking the interest and initiative with this drought report, and for both their dedicated farmers and loyal customers.

*Gundooee suffered severe damage in the St Ivans fire of February 2017 which destroyed much of the farm infrastructure and almost all the ground cover on the property. The area was already in drought but, due to decades of good management, Gundooee was coping fairly well. Since the fire, the persistent dry conditions have slowed growth and Rob has adjusted much of his cattle to other organic land. This has allowed the ground cover to return at Gundooee but it's been a very tough couple of years for Rob. - F&B