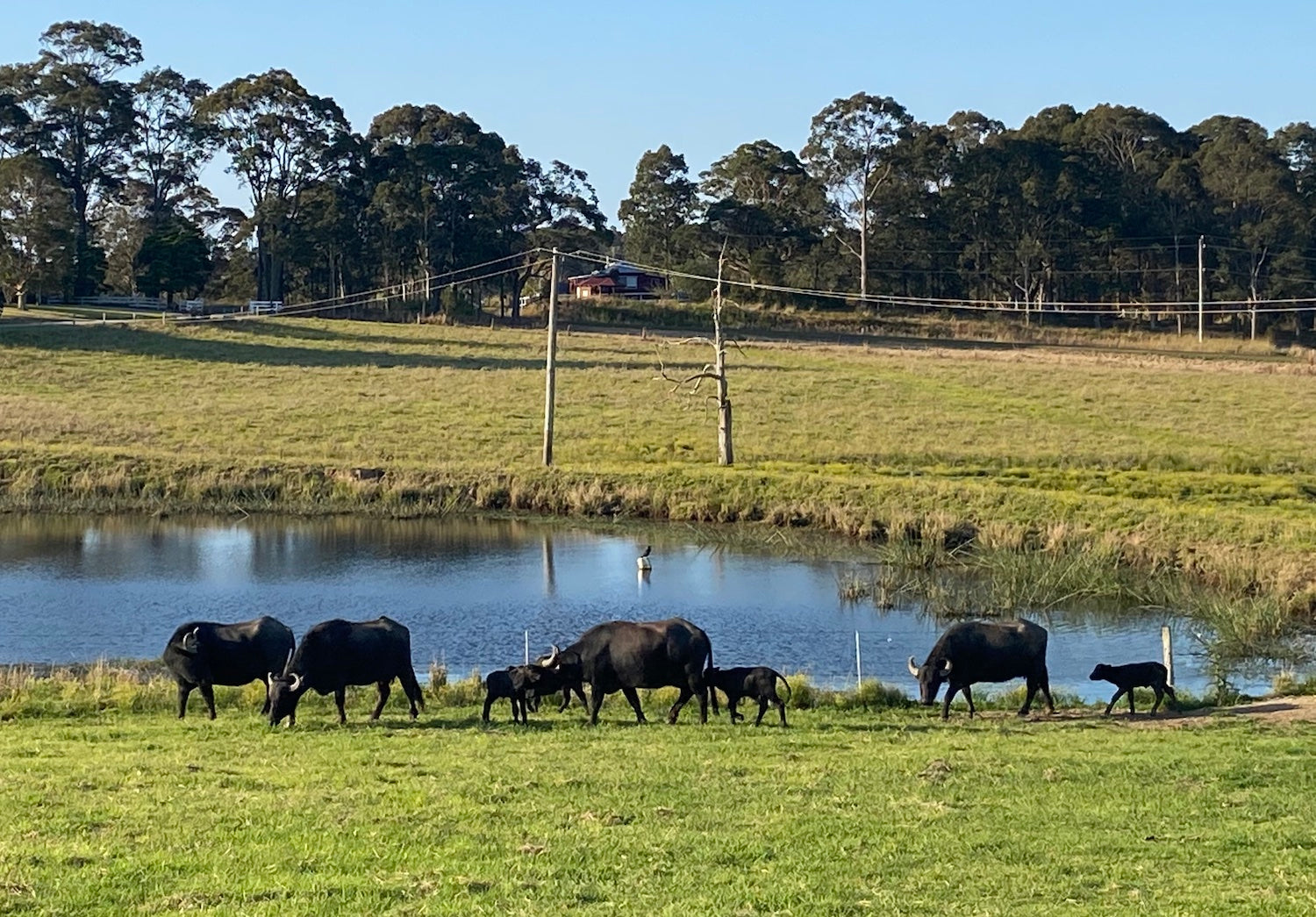 Staff trip to Burraduc Buffalo Dairy
Last Saturday afternoon, we galivanted up north to Bungwahl on the mid-NSW coast where the buffalo roam and the milk is sweet.
It's all very well to handle and enjoy and hear about beautiful products like Burraduc Buffalo milk and cheeses, but nothing beats seeing the place and how it works for yourself. So a few times a year we gather up the team and head off to a farm so everyone can see for themselves.
We arrived at Burraduc late in the afternoon, just in time to see the cows bring their calves up to the dairy to go into the overnight creche.
It's a beautiful farm and a lovely thing to watch the buffalo calmly moving around in the waning afternoon light, with the odd frisky calf kicking up its heels and if you didn't know how unusual this farm is in every way, you'd think all dairy farms put the babies in a creche every night. 
Each evening at Burraduc, the buffalo cows have been trained to willingly take their calves up to the dairy where the calves spend the night in a creche and the cows return to the pastures where they manufacture milk in peace. In the morning, the cows return to the dairy for milking and, when that's done, they're reunited with their calves and the group returns to the pastures for the day.  
Buffalo are notoriously independent, smart and quite wild - much more like horses than cows. Like humans, buffalo cows will instinctively hold back their milk let down if they're in any way disturbed so the effective running of the dairy depends on relaxed cows.
The fact that the Burraduc buffalo cows will happily comply with this process of releasing their calves each night is a mark of how well they're managed and how much they trust their human partners.
This bucolic daily cycle continues until the calves are weaned at around six to eight months when the female weaners mature and eventually join the breeding and milking herd and the males will be processed as vealers. Some of those vealers come to our butchery and others are sold directly by Burraduc. 
Compare this sharing model to the conventional dairy farm where the goal of harvesting as much milk as possible means that calves are separated from cows within a week after birth. None of this spending long days together on pasture.
That evening, we camped on the shores of Smith's Lake which was perfectly still and picturesque and, if you remember last Saturday, it was the perfect night to sit around a campfire. There was delicious food prepared by David and Hamish and there may have been whiskey.
The next morning we were back at the farm for a tour with Elena and Andrei Swegen who took us through the milking and cheese making process which is both exacting and instinctive. Both the Swegens - and their daughter Aleona who also lives at the farm - are scientists and everything they do on the farm is conducted with a fascinating combination of intellectual rigour, ingenuity, curiosity and a deep passion for animals and the ecosystem.
Spend any time on the farm with them and it's not hard to see how they produce the sort of quality product that saw them receive the 2023 national Delicious Produce award for most outstanding producer.
After a brief excursion into the adjacent national park to take in a spectacular view of the farm and the Myall Lake system, we repaired to the farm house garden where Elena introduced us to a pair of very beautiful but suspicious and shy dingoes, because doesn't every dairy farm have a dingo enclosure and a pack of Central Asian Sheepdogs?
Around midday, we rejoined Mr Bone who had spent a sweaty morning spit-roasting a Near River porchetta and a Moorlands biodynamic lamb shoulder to go with Elena's platter of plump, succulent mozzarella and cherry tomatoes and some scamorze which we melted to add to the feast. Then, to round things off nicely, the Swegens' neighbours (ex-Serendipity Ice cream owners) turned up with buckets of buffalo ice cream for dessert. 
We finally stuffed ourselves into our various vehicles and wound our way back to Sydney, full of delicious food and information and completely smitten with Burraduc and the buffaloes. 
These experiences are invaluable in reconnecting all of us with where our food comes from and how it's made, and when the Burraduc delivery arrives on Friday, I know we'll pack customer orders and stock fridges and wax lyrical to our customers about the products with a much greater appreciation, enthusiasm and respect than before. 
Read the Burraduc case study in our book, The Ethical Omnivore.