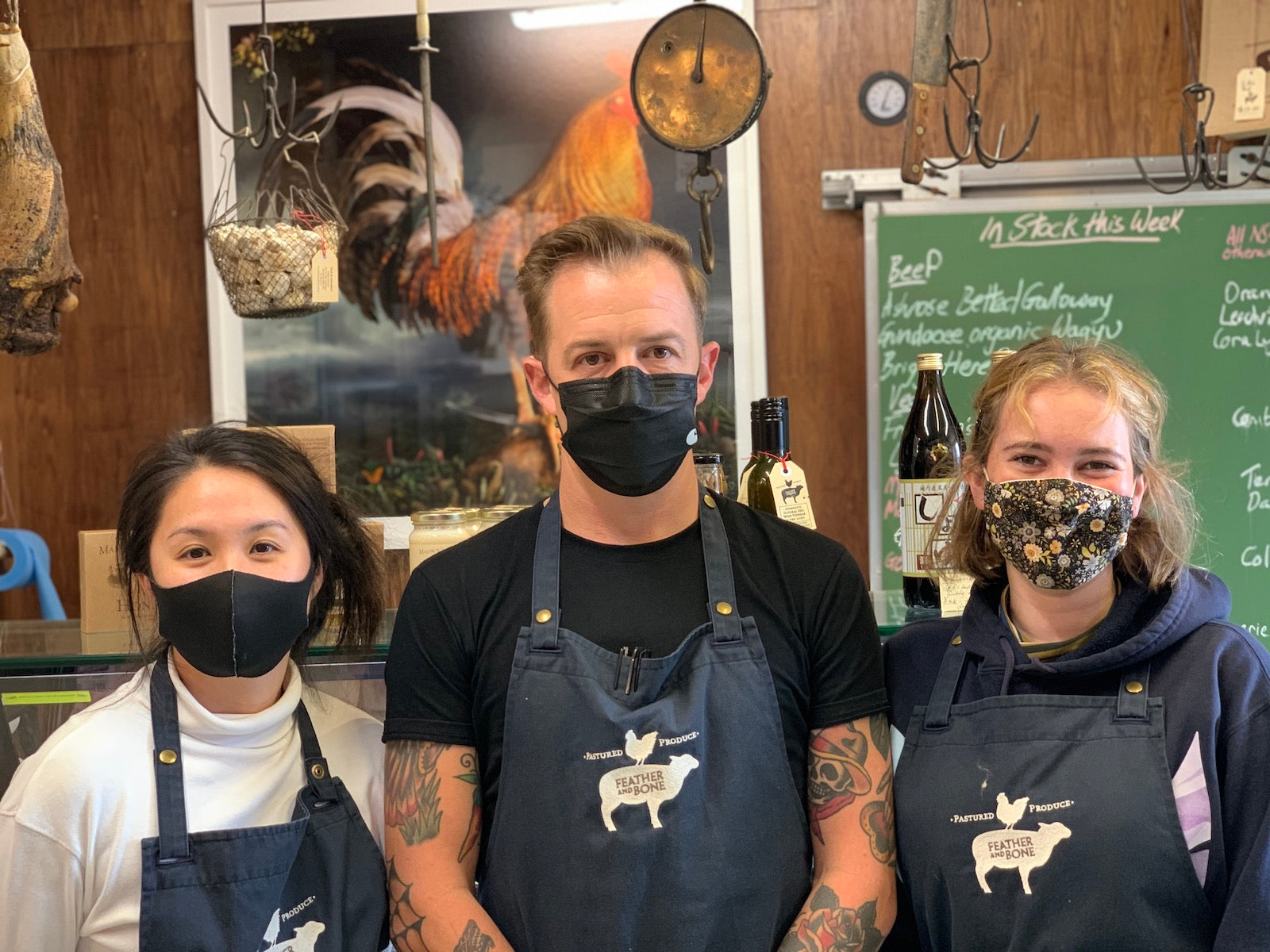 Update on face masks at the butchery
In line with NSW Government Covid-19 guidelines, we are not accepting cash, customers are required to wear face masks inside our butchery and physical distancing rules prohibit more than three customers in the shop at once.
Which means that on most days our place looks like a convention of poorly-disguised robbers circling round each other, desperately searching out superior proteins in a bid to boost their failing careers.
Of course, we are also wearing face masks.
Which adds a whole new level of performance anxiety to the concept of customer service, because no one can see the warm, welcoming grin gracing the lower half of your face so you have to do a lot of exaggerated eye work in an attempt to get the message across. Depending on your natural dramatic abilities and experience - whether you graduated from NIDA or played the tree in the year three school play - acting with only the top half of your face can have mixed results.
Overdo it or do too much eyebrow work and you come across as a leering, wide-eyed hysteric. Underplay it and you risk doing the Julie Bishop dead eye. Add in a pair of glasses that fog up and half blind you with each puff of breath that escapes the top of your mask and you're into truly experimental theatrical territory.
Face masks also muffle voices so if there's any amount of ambient noise, you either have to shriek at each other to converse or resign yourself to awkward silence augmented with a lot of energetic hand gestures. Too energetic and you risk knocking someone in eye, too subtle and the gesture is unclear and causes more confusion.
Then there's the difficulty of correctly recognising people simply by their eyes and hair line while maintaining regulation physical distancing and peering through glasses that fog up with each expulsion of breath through the top of your mask. You do your best to take in as much detail as possible between blinding puffs, but mistakes do happen and it can be embarrassing when you fall on an unsuspecting, first-time customer as though they're a long-lost relative. Or ignore your best friend.
All in all, it makes for an entertaining shopping experience as the robbers dart between fridges and negotiate wild-eyed, shrieking staff.
Come on down, it's loads of fun!