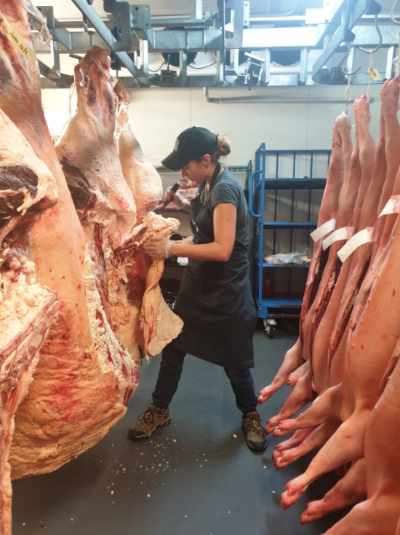 The Wonderful Women of Feather and Bone 
Since 2008 when Mrs Feather joined Mr Bone and became the second employee, our business has been 50% or more women across all areas. We don't have a conscious equal opportunity employment strategy, it's just always worked out that way and it's been good for our business. Women drivers, chefs, packers, pickers, retailers, marketers, accountants, strategists, bookkeepers and, in the last few years, women butchers (HURRAH!!!).
To state the bleeding obvious (pun intended), as employers, it's the attitude, work ethic and skill set that matters to us. Gender is largely irrelevant.
As of writing, we're 60% female and our management, retail and butchery teams are all half and half. So far, so unremarkable. Simply a reflection of the 50/50 gender mix in the broader community, right?
Yes, but no. Very few butcheries or meat processing businesses in Australia are co-owned and operated by women. In retail, there's Emma Wills at Bayside Meats in Hobart and... um, well, there must be others? In farm direct there's Tammi Jonas who butchers the meat she grows at Jonai Farm and Alex Hicks at Extraordinary Pork (Extraordinary Pork are the only small scale, regenerative Australian farmers growing and slaughtering pasture pigs on farm - read their story in our book, The Ethical Omnivore). We'd love to know of others like her. There are women managers in other meat businesses such as Bec Lynd, CEO of the Huon Valley Meat Co, but again, they're few and far between.
Female butchers are also regrettably rare. It's estimated that only 5% of NSW butchers are female and that's a sharp - and welcome - increase from five years ago. Which is curious given that the industry hasn't encouraged women and, overall, the numbers of people entering the butchery trade is declining. You see, in Australia, butchery is considered a rough and brutal trade.
But as we said in our book, The Ethical Omnivore: 
"We think that butchery is a beautiful and venerable craft and when it is performed with skilful expertise it is full of respect and admiration for the life given up to feed us. As long as we continue to eat animals, we need skilled and caring people to prepare our meat for us.'
The Australian meat industry needs more skilled and caring people and we'd love to see more women involved. (Something that could also be said of other industries - say politics, for example. Perhaps Police Commissioner Fuller could design an app for that?)
The fact is that ours is a male-dominated industry and equal ratios of men and women aren't the norm. So, right now, given everything that's going on in Australia, it feels appropriate to take a moment to acknowledge and celebrate the women who choose to work in this industry and, specifically, at Feather and Bone. 
Ladies and Gentlepersons, please be upstanding and put your hands together for the Wonderful Women of Feather and Bone! They're strong, clever and curious and we're proud to work alongside them - and grateful to all the other women who've been part of Feather and Bone over the last 13 years.    
#womenoffeatherandbone
DISCLAIMER: The fact that Mrs Feather is a cranky old feminist negotiating a tsunami of testosterone courtesy of three feral sons and Mr Bone is avowedly pro-equality (what the lovely Boris Johnson would call a big girls blouse)may have a subliminal influence on our employment decisions. 
A few of the wonderful women: Vera, Nuj, Jade, Kellie, Bui, Rose.
Nuj (retail manager) with a glazed ham for the shop.
Vernice making beef bone broth.
Rose with porchetta for the shop.
Kellie, our accountant and adviser.
Emily and Sarah.
Mel who does the bookkeeping from a yurt on the edge of the Wollemi/Yengo wilderness.