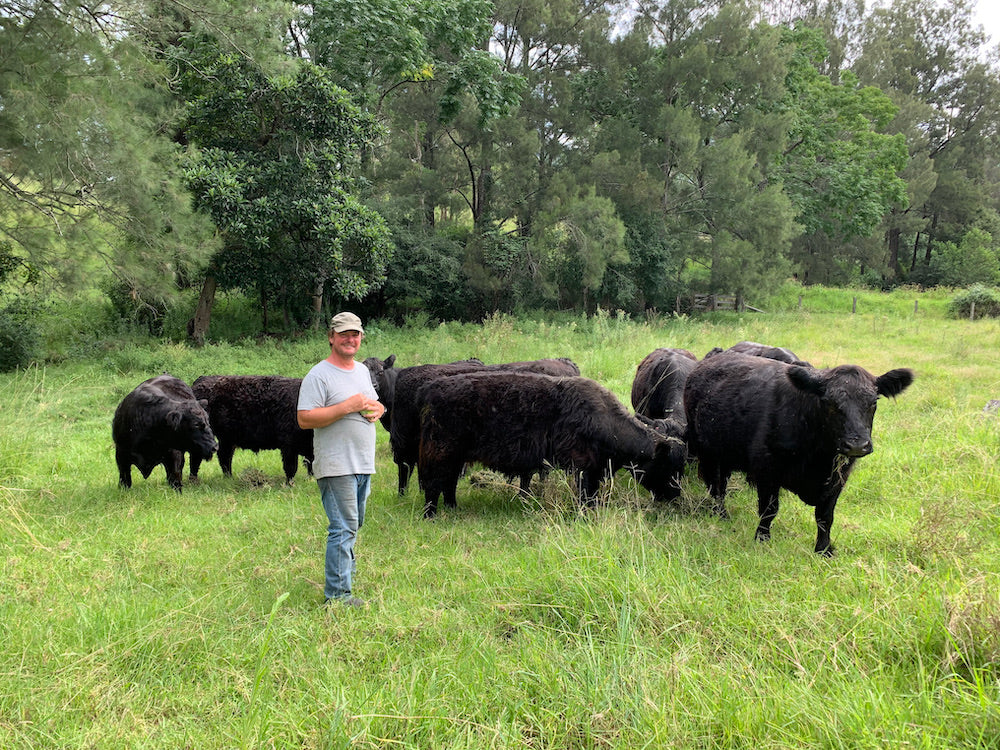 Allyn River Galloway farm update
Here's a treat. A fascinating and beautifully-written farm update from Adrian Honnery and Valentyna Jurkiv of Allyn River Galloways.
It was written in March and we are remiss for not publishing it earlier (apologies, Adrian). But the delay doesn't in any way detract from the pleasure of reading all about the ebb and flow of life on the farm - the soil, plants, animals, fish, seasons and stories. If you can't visit the farm, this is the next best thing. Thank you so much, Adrian. Read about our last visit to Allyn River.
Allyn River Galloway farm update - by Adrian Honnery
This farm update was written in the context of a general easing in the Covid-19 pandemic, and before the floods up north and the escalation in combat in Ukraine. My partner, Valentyna, and her family, are members of the Ukrainian diaspora. Her mother's parents fled the Soviets and famines in the 1930s, and her father was born in a forced labour camp towards the end of World War 2.
Valentyna is of the view that we should remember good times in moments like these, and is insistent that we share what has been happening on our farm with you.
Last winter was mild with only a few frosts, and there was good coverage of white clover and plantain amongst the emergent sward of localised rye grasses in our finishing paddocks. The transition to spring was barely noticeable as there were not many days dominated by wicked westerly winds. Our soil temperatures remained cool, perhaps too cool, and our soil moisture was high. Normally there would be an abundance of both woolly pod and hairy vetch emerging along with a start to our summer grasses by about early October, but this was not to be.
Towards the end of October, I started to make rough calculations about how long our winter bulk pasture of mainly native grasses would last in our breeding and holding paddocks. Then in November we had 400mm of steady rain! Holy moly. Spring had sprung a torrent. And all through summer we have had good rain regularly, as well as the occasional stormy downpour.
The grass in some places has reached up to our armpits and everywhere is heaving with wildlife. Every patch of pasture seems to be prime habitat for frogs, crickets, dragonflies, butterflies, moulting cicadas, spiders, quail, and, of course, slugs, snails and ticks.
These high pasture growth, high precipitation conditions, though, demand patience and an extra gentle hand.
One has to ensure that cows with calves are moved just after they have milked. It is all too easy for us to miss a calf sleeping in tall grass and leave it behind or for a calf to get stuck on the wrong side of a fast flowing and rising creek. The cattle must have access to higher ground in order to avoid foot rot. And we have to let the cattle forage more broadly in their search for the right mix of vitamins and minerals for good nutrition and for enough dry, older, feed to balance out their guts.
These conditions also correlate with an abundance of ticks - of the bush and paralysis varieties. Paralysis ticks can kill a calf, and bush ticks can carry a potentially fatal disease called Theileria which is devastatingly fast acting. So we have been paying extra special attention to our cattle's tick-loading when walking amongst them.
Our observation is that the cattle seem to have their own methods for relief and that already being in good health generally helps. Mothers typically use their tongues like a rasp to lick ticks off their calves, while larger animals rub them off on tree trunks and fence posts. Some daub their necks and heads with muddy soil, which when it dries out contrasts with their black coats and makes them look like they are wearing mismatched makeup foundation. There has also been an increase in the occasional nibble on eucalyptus leaves, whether or not that is a bovine medicinal experiment related to ticks is unclear to me. And the textbook, yet still happy, symbiotic relationship arises when the cattle learn to relax while a willy wagtail combs them looking for ticks to eat, and after a time the larger cattle will even let a crow peck off an adult tick. Upon the completion of every walk amongst the cattle, we then check over ourselves and our old dog to make sure our tick-loading is not too high as well.
When there is a boost in ecological activity in times such as these, we like to think that we are fattening the land as well as our cattle.
This process has a downside, like this year's brutally rampant growth of blackberry bushes. Yet there is an upside in the abundance of fruit. Always productive, my partner, Valentyna, harvested the high quality fruit and has made litres of sorbet, which makes this upside very palatable for us. In addition, there is often a welcome bonus to this process. It can also result in pleasant surprises such as our discovering that gudgeons, thumb-thick index-finger-long fish, have established themselves under the water lilies in the small ponds along our intermittent watercourses. And this is despite an uptick in the wild duck population.
A neighbour, keen apiarist and dear friend of ours, Malcolm, who is 83 years old/young keeps telling us that this summer has no equal, and who are we to disagree with him.
Maximum temperatures have been mild, and the grass has grown long. We have both grown bulk for winter and naturally replenished our seed bank. We may even have made some topsoil. All of which should help improve our farm's resiliency for when conditions, as they inevitably will, take a turn for the worse.
This tranche of steers which we are supplying to F&B are a few months older than usual and have had an extended time grazing our finishing paddocks by the river. Their coats are glossy, and their briskets are full, wobbly and hanging very low.
Postscript: The Galloways steers that Adrian and Valentyna sent us yielded wonderfully rich, marbled meat and lovely grassy fat and were some of the best beef bodies we've received. They were enjoyed and celebrated by us and our customers.