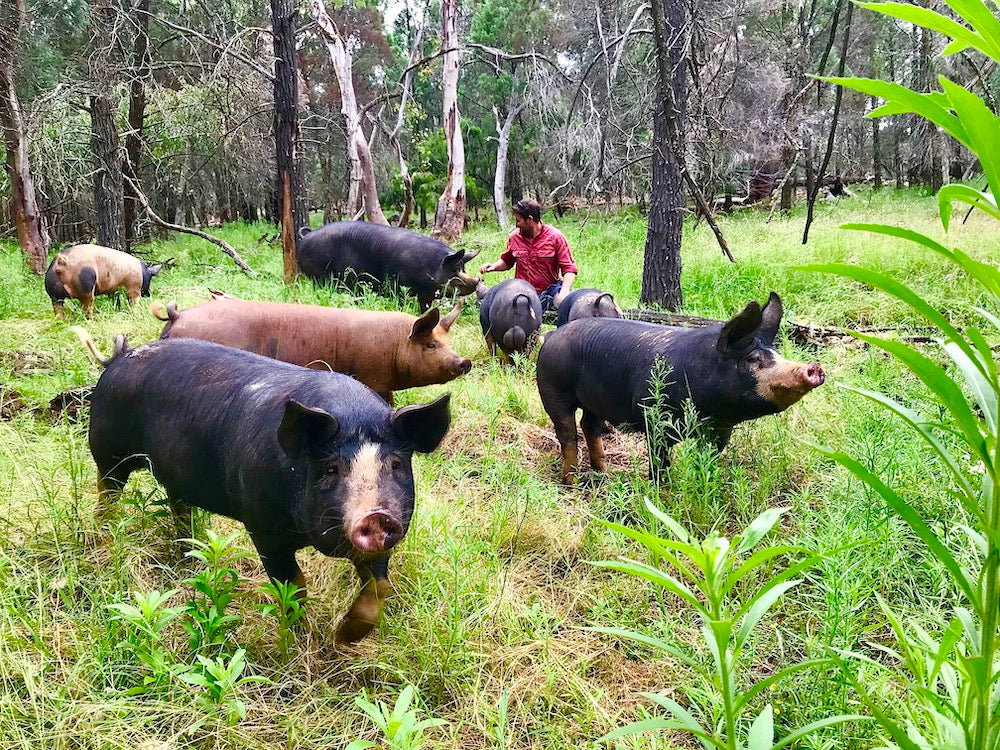 An Extraordinary farewell
Apparently all good things come to an end and a few weeks ago we took delivery of the last of Michael and Alex Hicks' award-winning Extraordinary Pork pigs, pictured above at the Hicks' new farm. Unfortunately for us, despite the fact that it's obviously pig paradise and the Hicks' pastured pig project truly was extraordinary, Michael and Alex have decided to stop growing pigs and grow sheep instead.
If you doubt the 'extraordinary' claim, read the case study about Extraordinary Pork in our book, The Ethical Omnivore, and you'll see it's true and understand why we're moping about the loss. We won't be the only fans to miss this wonderful product; Firedoor's Lennox Hastie said his Extraordinary Pork Christmas ham was the best ham he's ever had.
But it's not just the product that we'll miss. It's also the immensely rewarding and enjoyable relationship we've had with Michael and Alex who are smart, focussed, funny and genuine. It's been a real pleasure working with them and we are so grateful. With any luck, we'll have another opportunity to join forces somewhere down the line and, in the meantime, we wish them all the best in their new chapter.  
Here's a lovely photo of Alex at the new farm on new years eve with a couple of new friends, Poppy and Buddy, conducting a trial to see if augmenting sheep diets with human hair will produces extraordinary sheep. We'll be visiting soon to check on progress.