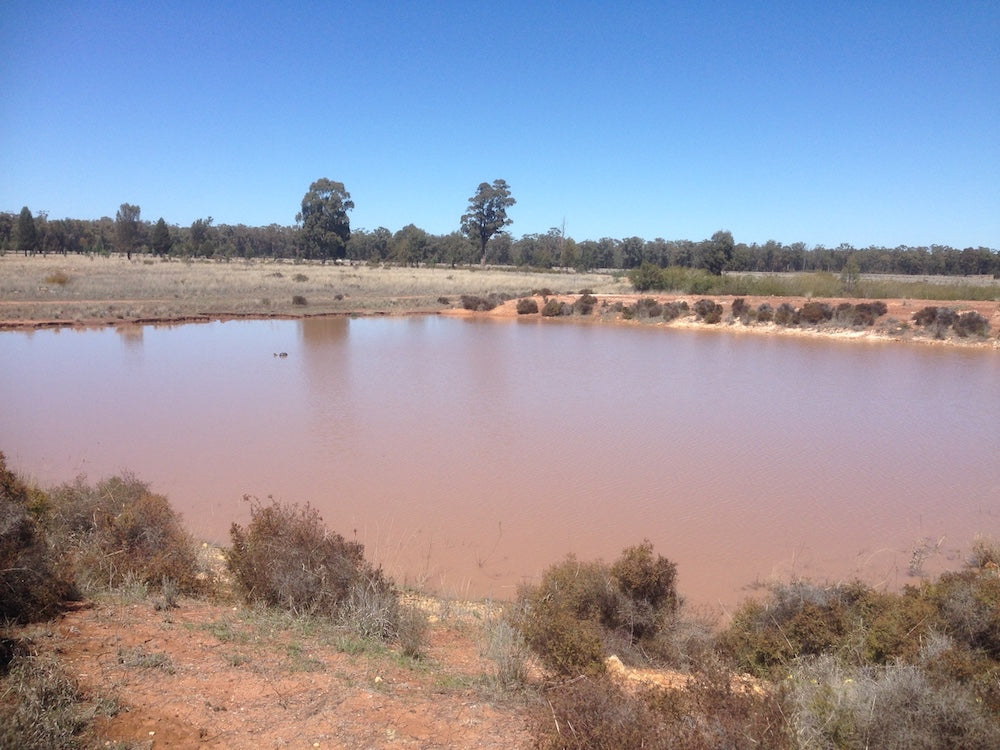 An Extraordinary success story about the drought!
'3 million litre ridge dam filled from 35 mm of rain on a 16 ha catchment in a historic drought!' - Darren Doherty, Regrarians
Today, against the odds and two years into what some say is the worst drought Australia's faced in 100 years, Extraordinary Pork farmers Michael and Alex Hicks are celebrating. They're seeing the plan they worked so hard to put in place when they bought their farm in 2012 start working for them and their cup, or dam in this case, is literally almost overflowing.
On 4th October the skies finally opened and delivered the biggest rainfall in two years in the drought-stricken, Dubbo region. Instead of squandering all this precious water in run-off as it skated across the surface of the hard, dry earth, the water at the Hicks' farm obediently drained into the carefully-planned road channels running along the key contours of the farm and poured into their two dams, filling them up and providing enough water for the next six months. 
In drought conditions, particularly where pigs are concerned, this is hugely important and a powerful endorsement of the efficacy of tools like keyline planning in managing sustainable fertility in Australian conditions. 
Michael Hicks credits regenerative farm consultant Darren Doherty's plan for this success but it's also a measure of the Hicks' approach to farming. In her excellent book, 'Rusted Off' which interrogates the division between urban and rural Australia, Gabrielle Chan rails against the 'sad stories' about rural Australia that tend to dominate the narrative, particularly in periods of severe drought. The Hicks' story is a welcome relief from these sad songs and beautifully illustrates the positive effects of an intelligent, considered, regenerative farming approach.   
Michael and Alex Hicks bought their farm near Dubbo in 2012 and we've been selling their Extraordinary Pork Berkshire pigs since February 2016. Apart from the quality of their pigs and the pleasure of doing business with great people, the impressive thing about them is the determined, pragmatic and long-sighted way they set about dealing with each step of their business. As a fifth generation farmer with an agricultural degree, Michael is no slouch when it comes to understanding farming. But, with a desire to avoid conventional chemical farming props, limited funds, a property damaged from long-term over-grazing and the need to generate income as quickly as possible, he knew he had to be very smart from the outset.
One of the first things the Hicks did was to recruit Darren Doherty, the celebrated regenerative farm designer, to develop a long-term structural plan for their property. It's this plan that, five years later, has led to the Hicks celebrating full dams in the middle of a shocking drought.
Here's the report Michael Hick sent to us about the drought and the recent rainfall.
'On the 4th of October we had 49mm of rain, this rainfall event filled our dam. This dam holds 3 million litres of water, a little more than an olympic swimming pool. To put all this in context, this is the single biggest rainfall event we have had in over 2 years.
Drought has been impacting our farm for the last 2 years with low rainfall and higher temperatures, especially during summer. Lower rainfall means less run off and higher temperatures means higher evaporation from the dam.
Pigs use a huge amount of water, especially through summer as they cannot sweat. They need water to bathe in, that helps keep them cool and helps to maintain their body heat. Over the last 2 years we have been able to scrape through with our water supply mainly due to the farm water design that we employed Regrarians to design for us not long after we moved onto this farm. The design relies on contour banks that catch the water that runs off the hill after it rains and direct it to a dam much like a giant gutter.
This current drought is not predicted to end until April or May next year, so for us having plenty of water to go through a hot summer is an enormous relief. All of this in what some people describe as the worst drought in 100 years and we have plenty of water!!
This has only happened because of the clever design developed by the Regrarians. Many of our neighbours do not have full dams and are beginning to worry about summer and how they will have enough water for their livestock.'
There is also a brief report about this on the Regrarians facebook page. Darren visited the Hicks last week to see the dam for himself and posted a fascinating video in which he accompanies the footage of the farm with a detailed explanation of how the keyline plan works.
If you're in Sydney on 7 November and you're interested in hearing Darren talk about these issues, he'll be on a panel discussion about drought and water at Pocket City Farms in Camberdown. We'll be on the panel too. Get your tickets here.