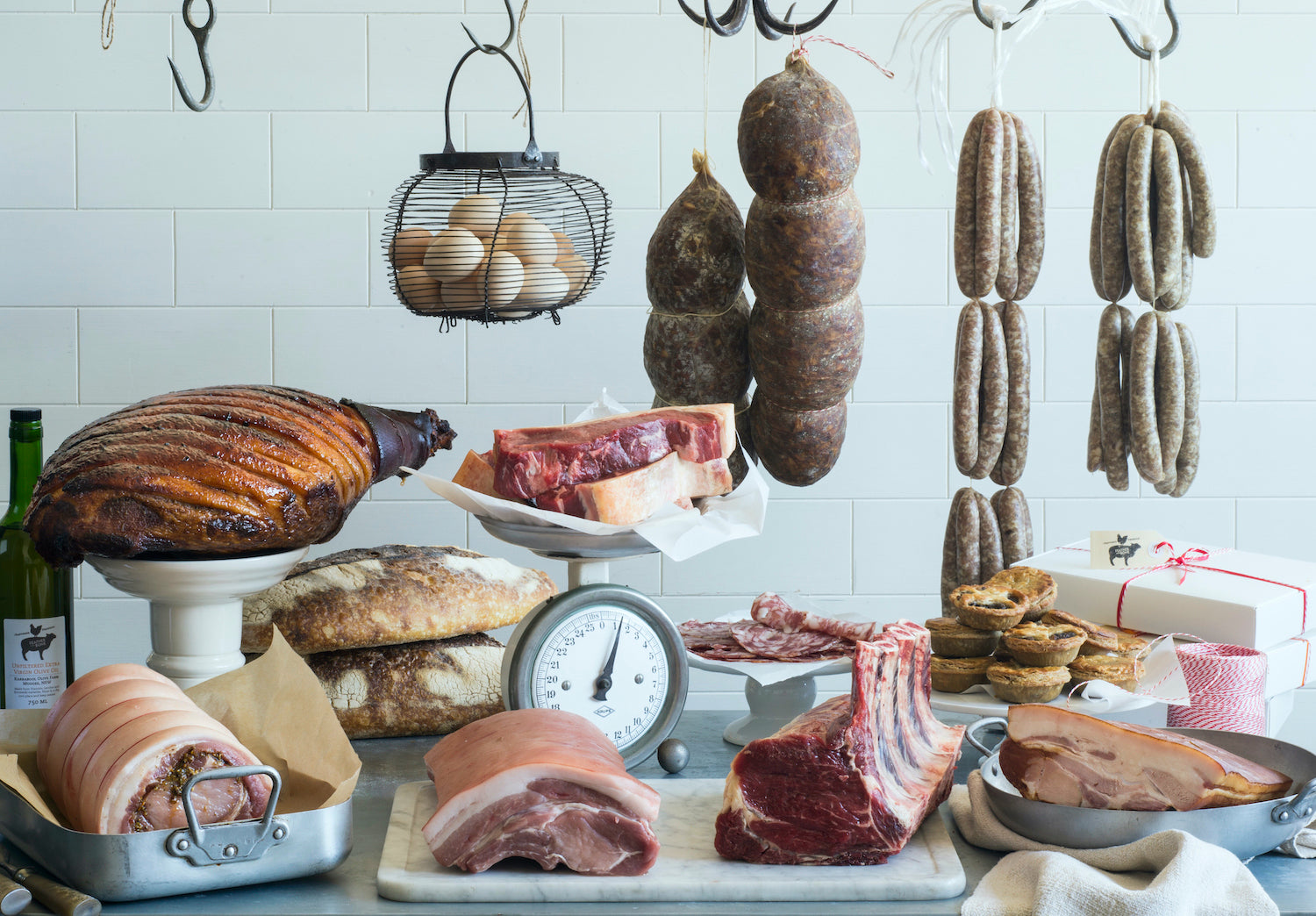 Christmas is coming...
Glazed hams, roast turkeys, extra large heritage chooks, stuffing, geese, porchetta, lambchetta, mince pies. Yep, it's that time of year again.
CHRISTMAS IS COMING!!!
Do those three words trigger sphincter-clenching trepidation? Do you break out in a sweat as you realise that the year is galloping mercilessly away from you, squeezing the available time to get EVERYTHING done into an agonisingly narrow window? Do those first jaunty strains of Michael Buble's White Christmas  bring on a wave of nausea at the humiliating memory of hurling yourself into the feral fray at the closest shopping mall in a frantic, frothing, last-minute, last-ditch assault because you failed to get yourself organised in advance? 
Well, clench and lurch and fear no more, because we are here to help you gird your loins and address your chronic avoidance issues once and for all with our fabulous, therapeutic, delicious...
LOIN-GIRDER EARLY BIRD OFFER!

Get your Loin-Girder Christmas orders in before midnight on Sunday 24th November and give yourself:
the chance to win either two Sommerlad heritage chooks or a 2.5 kg porchetta made from NSW pasture-raised pork!
the relief of ticking something off that terrifyingly-long list
a feeling of smug, self-righteous satisfaction when we sell out of hams but you know you're definitely on the list.
~
Now, before we continue ranting about our undeniably gorgeous offer, featuring the return of the show-stopping and one-of-a-kind Real Mince Pies, bear with us a moment as we stop to consider our navels and ponder the  meaning of Christmas.
As self-appointed Champions of The Feast, we get very excited about Christmas because it's the biggest, national, annual Feast and the perfect excuse for us to do two of our favourite things - trumpet the virtues of our product offering and gather our loved ones together for a slap-up feed. It's an opportunity to celebrate community and tribe and family, however far-reaching or particular your definition of those things might be.
It's also an opportunity to reflect on what binds us together and, as we tuck in to the bounty of the season, what binds us to the land that feeds us and on which we depend.
For us, 'family' includes the regenerative farmers with a long-term commitment to regenerative food production and you, the consumers who support these producers and endorse their practice by buying their food. Together, we form a community of like-minded people united by the idea that an ethical and sustainable food production, distribution and consumption must be under-pinned by the acceptance that we, as biological beings, are embedded in the process, not separate from it. We are, literally, what our food ate.
Whether we accept it or not, eating is a political act. Every decision about what we eat and every dollar we spend reinforces the way in which our food is produced and the choices we make at the checkout ripple all the way back to the farm and down into the earth. We are active and powerful agents in the cycle and we have the real capacity to change things for the better.
So whatever your tradition, whatever your culture, whatever your family and however you choose to celebrate this festive season, don't forget that when we sit down to eat, we are consuming the fruits of the soil, the lives of animals and the labour of farmers.
And for that we can all give thanks.
If you're a regular customer, we look forward to seeing how you feast this Christmas and we enthusiastically thank you for supporting regenerative farming and humane animal welfare in 2019. If you're a new customer, we're very pleased to see you and we hope that, if you order your Christmas fare with us, it will be the start of a life-long commitment to eating better meat raised on regenerative farms.
Right, that's the end of the sanctimonious lecturing.
You lot scuttle off now and order your righteous meats and goodies for Christmas feasting. But, before you go, pass me that bottle of gin, I'll need it to get me through til 26th December... 
Photo by Alan Benson, styling by Jane Hann