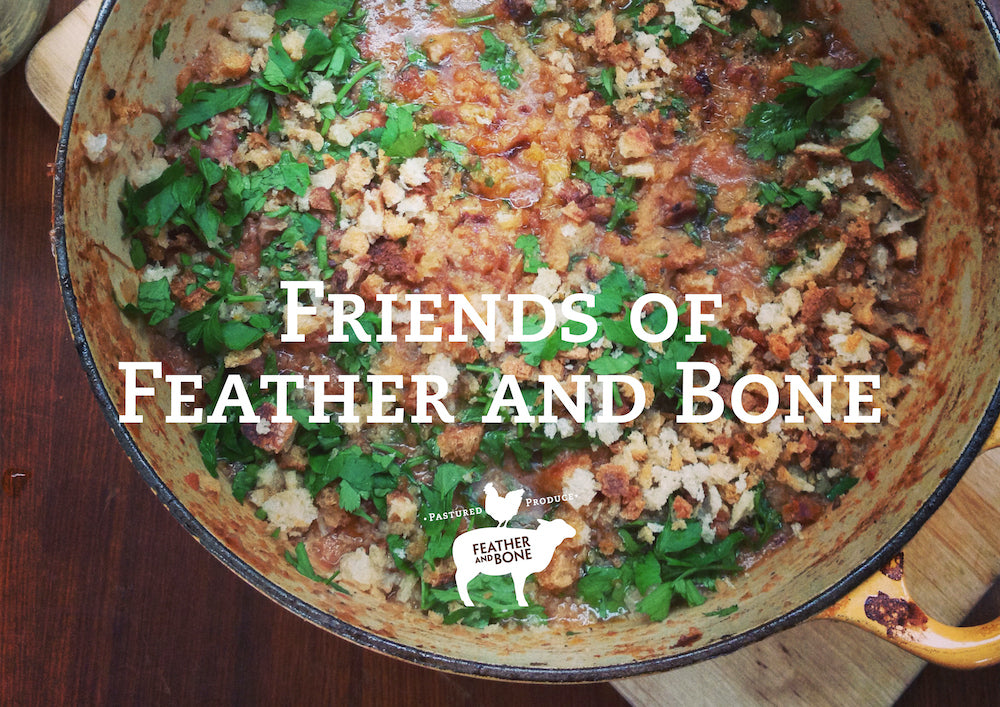 Friends of Feather and Bone facebook group
Join Friends of Feather and Bone!
We've been thinking a lot about how food is a wonderful way of binding and strengthening communities, large and small, the more diverse the better. The more we reclaim knowledge and share ideas, the stronger, more tolerant and open-minded we become.
The way we see it, we're no different from the networked communities of microbes, fungi, plants, insects and animals on the farms we work with - the more closely we're connected, the more healthy and resilient we are.
So we decided to set up a facebook group for our community - a non-judgemental, community forum for sharing your trials and tribulations in cooking with the whole animal.
We'd love you to post photos of the food you cook, your recipes for eating the whole animal, your successes, your failures, your concerns and anything that you think will improve our collective understanding and make the rest of us weep with laughter (that bit's important). Any useful tips on taming feral children, preferably food-related, are also welcome.
We moderate it but the rest is up to you.
The more we share knowledge and grow capacity, the more powerful we are and better equipped to make more informed, more meaningful, more responsible choices about what we consume and which production systems we support. So we want this facebook group to be an open, supportive place devoted to sharing stories and information, no matter how modest or how grand.
Join Friends of Feather and Bone

GUIDELINES
Please ensure that any posts are supportive and informative rather than critical or divisive.
Posts that encourage thoughtful discussion about issues are welcome but this is not a place for grandstanding or haranguing.