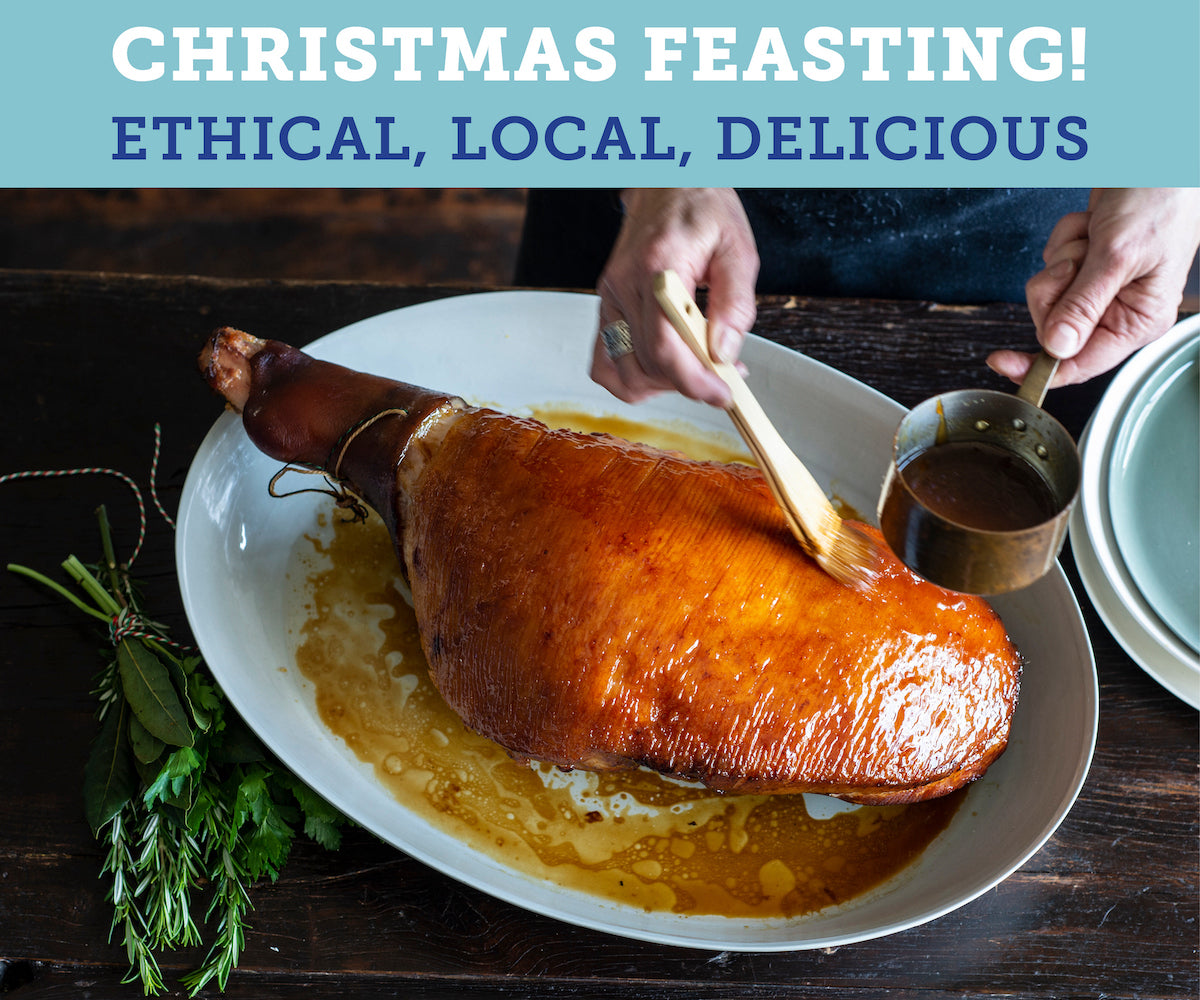 3 Hot Tips for Christmas Planning
Yep, it's that time...again.
Christmas is coming and we've got heritage-breed turkeys and hams, gorgeous geese, sensational Sommerlads, plump puddings, terrific terrines and lots more.
So it's time to shake out the party frocks and start planning for those lovely, long, summer afternoons and evenings of lazy barbecues and drinks as everyone loosens up at the prospect of a well-deserved, end-of-year break.
Only, there's nothing that disrupts the relaxed, summer vibe quite as much as a really stressful Christmas with everything thrown together at the last, hysterical, finger-pointing minute.
So, here's our first hot tip.
# 1. ORDER EARLY
Then relax and get on with more important things...
Naturally (literally), we're here to help. Because, not only do we have all the key items you'll need for a fabulous, flavoursome, festive feast, but our produce comes with some seriously award-winning credentials.
What's more (and more important than accolades), this food is grown locally, ethically and with deep respect and compassion for the country.
Which puts you, oh excellent customer, sitting on the Everest of moral high grounds at your family Christmas event AND supporting regenerative farming AND tucking in to some of the best food in the land. So far, so good!
But you need a reward for being so clever and virtuous.
So, here's our second hot tip. 
Make it really simple. The Feast Box gives you the greatest hits - turkey breast, sauce, ham, glaze, pudding and stuffing - everything you need for a your festive table. Feeds four to six people with loads of left overs.
Order yours now.
Now, here's the best part - story time.
This is where we tell you all about the farmers who grow this delicious food and their wonderful stories and the hard, important work they're doing on our collective behalf.
The more we all hear these stories, the more connected we feel to the natural systems and the wonderful farmers who produce our food. The more we connect, the more we care and understand that our choices determine what gets produced and how.
Also, stories are fun and we all need to have more fun.
So, hot tip #3 is our first Christmas story.
(Pay attention, folks, because you'll want to be telling this one while your loved ones are tucking into their Christmas turkey.)
Once upon a time, a young boy visited his uncle and saw some extravagantly-plumed, strutting turkeys. As he watched, the turkeys' snoods and wattles quivered and the colour intensified and in that moment, the boy found his calling.
The boy's name was Daryl and he is now the only grower of pasture-raised, heritage-breed turkeys in Australia.
Unlike fast-growing, commercial turkey breeds, heritage breed turkeys grow slowly and naturally and thrive ranging free outside in cooler climates. The benefits of slower maturation, a free and active life and a complex diet that includes plenty of grasses and insects, results in a well-proportioned bird with finely textured, flavoursome meat and a higher fat content.
Daryl Deutscher is an unsung hero of the Australian poultry industry.
As well as being our only heritage-breed turkey farmer, he's pioneered a unique turkey breed and is also one of only a handful of small farmers who are breeding, growing and slaughtering on farm.
So, children, if you're very good and get your orders in early, you might be lucky enough to tuck into one of Daryl's fabulous heritage turkeys for Christmas. Order your turkey now.
More about Deutscher's Turkey Farm.
More hot tips coming soon!