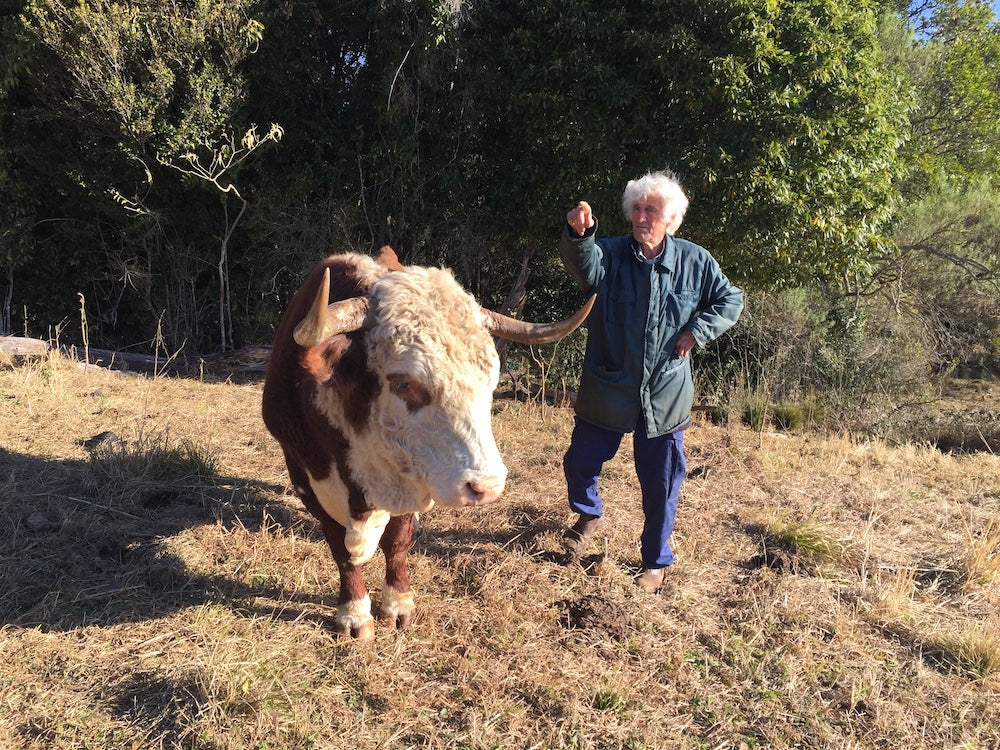 Mr Bone's road trip: 2,400 km, 11 farms
Mr Bone is just back from his latest trip visiting a wide range of farms all over NSW. All the way up the coast to the Queensland border and down through the desiccated New England region and then out to Dubbo and the Central West.
What was dry before is almost haunted now, in the depths of Winter.
The difference between management systems is more starkly distinct. Pretty much anyone can turn off high quality produce in a good season. Like wine, it's the so-called 'bad' vintages that really sort out who's looking after their land and who has pushed past the point of no return and is either on a permanent, hand-feeding regime or will be forced to sell hollowed-out animals at the lowest possible price.
Once their condition deteriorates the abattoirs won't even accept them for slaughter, and the failure of management will result in the farmer having to shoot the stock where they stand. That should be seen as unacceptable, both from an animal welfare and environmental management perspective. It is not a fault of drought. It is a failure of management exacerbated by the dry conditions.
Happily, the farms we work with are all committed to maintaining their soils even if it means completely de-stocking some of their produce. Having a diversified multi-species farm allows production even in the toughest of seasons. The land is the biggest asset these farmers own or manage and what lives on it is only the product, albeit the saleable result, of the whole management process.
Continuing to support them by purchasing their produce while these conditions persist is the best way we can demonstrate our commitment to the whole enterprise of regenerative agriculture, irrespective of the season.
The breakdown
2,400 km's, 11 farms, some of which are mixed enterprise farms that raise a number of different species, and two on-farm abattoirs.
5 pig farms (Oxhill Organics, Near River, Homemade Healthy Happy, Spring Grove, Extraordinary Pork)
2 egg farms (Oxhill Organics, Working with Nature)
1 buffalo farm and dairy (Burraduc Farm)
1 turkey farm (Blackbutt Organics)
1 rose veal farm (Tony and Josie Franckin)
1 organic Russian garlic farm (Sweetwater Farm)
1 goose farm (U-Goose)
This was the first time Grant had seen the abattoir at U-Goose geese, based at Llangothlin in the New England, because it was installed since our last visit. A few years ago Lucy and Herb at U-Goose invested in a substantial on-farm abattoir and value-added enterprise. Not being able to source a satisfactory private kill, Lucy achieved what many thought impossible and established the only purpose-built goose abattoir in Australia. 'Determined' seems inadequate to describe the drive that got this done. Nepalese students from the university at nearby Armidale have proved invaluable in the whole process, working alongside Lucy and Herb.

The second on-farm abattoir is at Extraordinary Pork based at Eumungerie, about a half hour north of Dubbo and this has also been installed since our last visit. Extraordinary Pork is the pork that noted two hat restaurants such as LuMi and Firedoor insist on using. 
Michael and Alexandra Hicks are ingenious, highly capable and also very determined and they make a little go a long way. Constructed with some funding help from the State government rural development fund, the abattoir has been ingeniously designed to be accommodated almost completely within the confines of a shipping container, with a unique, two-way processing capacity. In NSW it's a basic requirement that every carcass from animals larger a bird is approved by a meat inspector at the abattoir and prior to sale. So, prior to commissioning the abattoir, Michael underwent the necessary training and is now a licensed Meat Inspector.
A film crew from ABC TV's Landline program were filming at Extraordinary Pork on the day Grant visited and their report, that also includes footage from Moorlands, Feather and Bone and an interview with Danielle Alvarez at Fred's, should go to air in September.