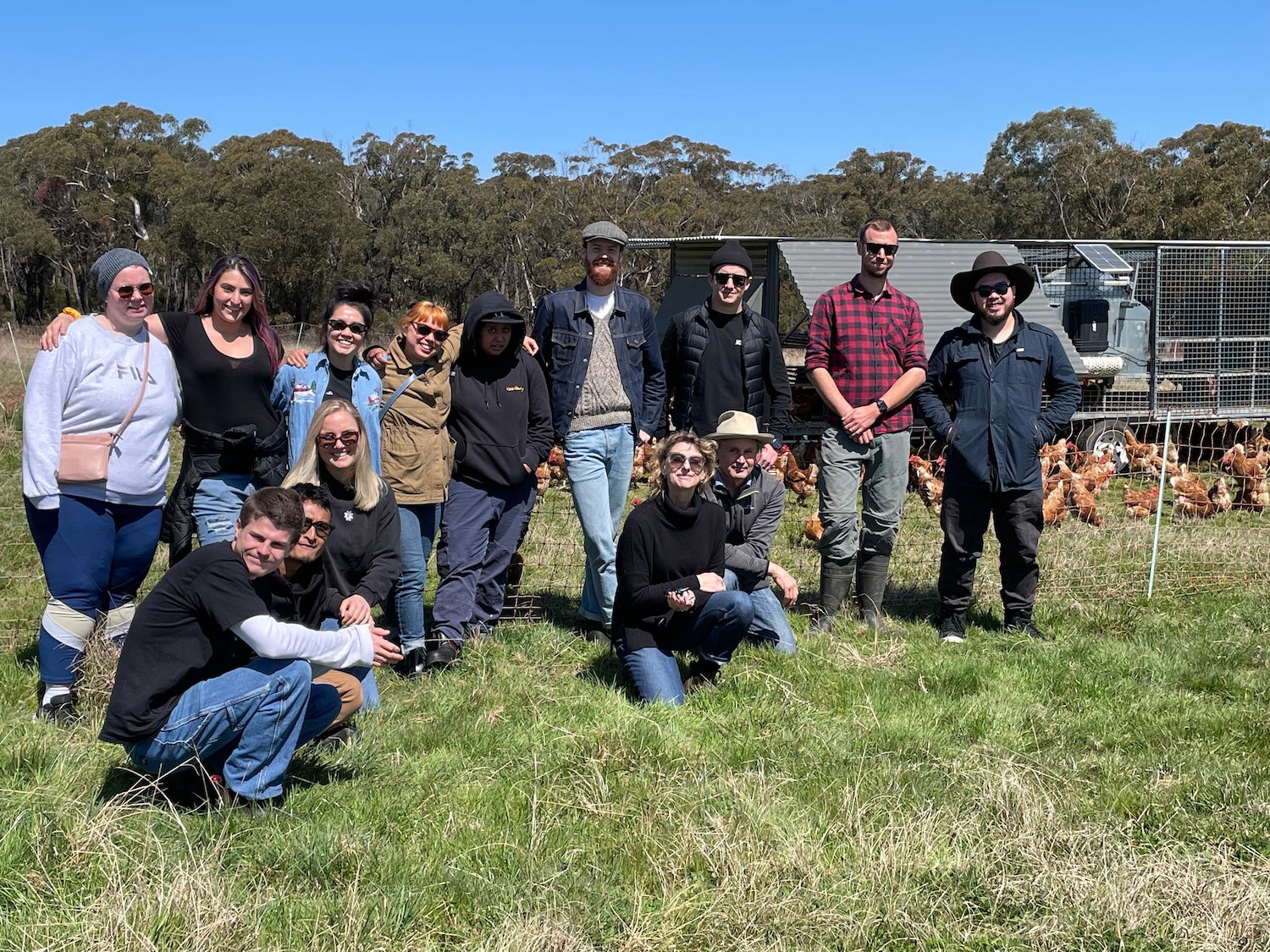 Staff farm trip to Mussett Family Farm
Last Sunday we closed our Waverley shop and most of our motley crew piled into a van bound for Mussett Family Farm at Colo Vale in the Southern Highlands. After a slightly tense stand off with the OCD driver who baulked at the idea of us stuffing ourselves with Goodwood Bakery croissants en route in his pristine van, we set off and had a wonderful, enlightening and inspiring day.
Will and Connie Mussett have been farming their land regeneratively since 2016 and currently produce the eggs and mushrooms we sell, with well-advanced plans to add microgreens and vegetables. The whole farm is entirely off-grid with all power produced by solar and wind, but that's not the half of it.
Everywhere you look there are examples of the Mussett's ingenuity and determination to create a self-sustaining, circular system in which every stage of production is cleverly linked to another.
Nothing is wasted, everything has a purpose and Will is constantly tinkering and inventing new ways to improve and evolve the co-efficiencies of every element.
As they say, the goal is to:
'...create a sustainable and regenerative farm focused on doing the right thing for the environment, the animals, our family and the community... a balance between crops and livestock to balance the nutrient cycle free from pesticides and herbicides.'
It's no surprise that the products they grow are so delicious. They're planning to hold regular farm tours in the near future and we couldn't recommend it more highly.
After gazing in wonder at the mushrooms, admiring the chooks and encountering the first Red-bellied Black snake of the season (not sure who was more frightened), we piled back into the van and headed off for a fabulous lunch at Moonacres Kitchen at Robertson.
Naturally, we made a pilgrimage to the Big Potato before heading home.