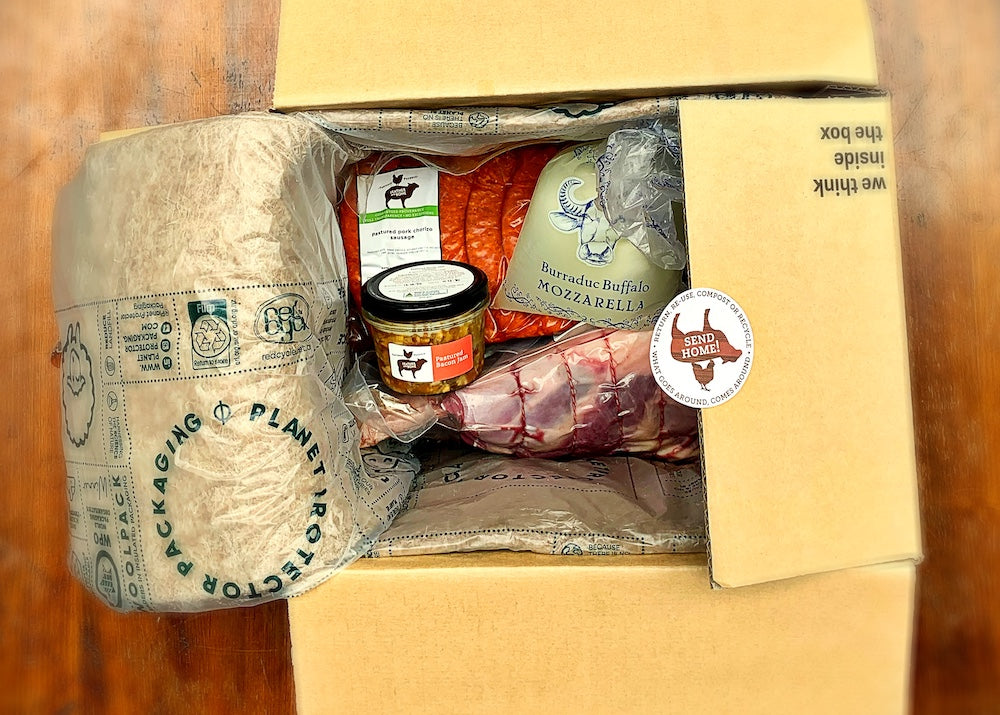 We're switching to eco-friendly boxes!
From next Wednesday, we're ditching recycled styrofoam boxes and changing to cardboard boxes lined with wool felt insulation made by the clever folks at Planet Protector Packaging.
These compostable, biodegradable wool felt liners are made out of waste products from the Australian and New Zealand wool industry and, apart from providing excellent box insulation, they have a multitude of interesting secondary uses ranging from garden weed mats and pipe lagging to carpet underlay. You could probably make your own doona or fashion a fetching felt frock out of it if you're a proper little homemaker. Never let it be said that we don't have your domestic interests at heart...
As is often the case with these initiatives, the up-front cost for these wool lined boxes is much greater than what we currently pay for recycled styrofoam boxes. (Of course, it's a no-brainer because these boxes can be successfully absorbed back into the cycle of life, reducing the long-term cost.) So while we care deeply about the beautification of your home and garden, what we really want is for you to return them to us so we can use them again.
But whatever you choose to do with your box and liner - re-purpose or re-use or chuck in the recycling bin - we'll feel a warm glow in the knowledge that, with each order, together we're responsible for one less indestructible styrofoam box clogging up the planet. That warm glow will be amplified when we fill your box with meats packed in compostable Grounded Packaging plastic bags or wrapped in vegetable-based, fully compostable butcher's paper (most butcher or deli paper has a thin, plastic membrane that can't be recycled or composted).
Bit by bit, we're doing what we can to improve our footprint.
So buy a box of goodies from Feather and Bone, support regenerative farmers and ecosystem health and we'll chuck in some free carpet underlay as well! Watch out Bunnings, we're coming for you.