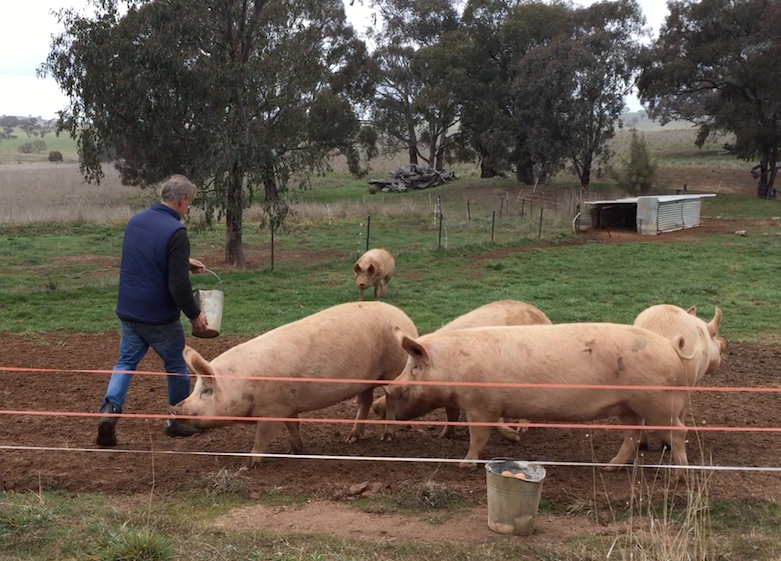 Mr Bone's road trip days 1 & 2: South West Slopes, NSW
Last Sunday, Mr Bone set off on a road trip to visit seven or eight farms starting in the Riverina, up to Orange and back through Mudgee. This is the first report from that trip covering three farms and we'll be posting more as he goes.
You can also read about why we think it's so important to visit the farms we represent.
NSW is currently experiencing the worst drought in living memory. The news is full of heart-breaking stories of farmers and landscapes in deep distress and images of parched, dusty fields cracking painfully. In many areas, even really smart regenerative farmers are suffering badly.
These are remarkable people who've spent decades rejecting the conventional farming wisdom of land clearing, mono-cropping and over-stocking and who have successfully restored farms devastated by generations of mismanagement to vibrant eco-systems with healthy soil, plants and animals. These farms and their inhabitants are generally much more resilient in the face of drought. But all farmers are doing it tough these days, even in the famously lush Southern Highlands just South of Sydney.   
So it was encouraging to find that the South West Slopes area of NSW, some of the most highly cleared and altered land in the state with only tiny remnant pockets of native bush, is in relatively good condition. This is due to the fact that, even in drought conditions, the area reliably receives some rain fall and historically is famously rich country for cropping. Hence the extensive clearing. 
Mr Bone visited three farms in this area.
1. New Horizon Mayfield Farm, 10 km east of Junee
New Horizon is a small collective of three or four Riverina lamb farmers from which we've been buying lambs for the last seven years and this is the second farm in the group that we've visited.
Rob and Sharon Eisenhour run Aussie White lambs which are a recent, self-shedding, composite breed developed at Tattykeel near Bathurst. They're a mix of Texel, Van Rooy (a fat tail sheep) Dorper and Poll Dorset. Rob's Aussie Whites are entirely pasture-raised and are guarded by Apacas.
The Eisenhours also grow some annual crops including winter wheat which Rob hopes to harvest in November it rains a bit. He'll kick the sheep off in early August to give the crop a run.
The picture below shows a mob of ewes and lambs or ewes about to lamb. Pregnant and lactating ewes require much more feed than 'dry' sheep but, in good conditions, pasture-fed sheep don't require any additional inputs. However, in drought conditions, with relatively sparse pasture growth, giving these ewes the full spectrum of nutrition and minerals they need can be tricky. So the trough contains dolomite - a raw form of lime - and the blocks are a hard salt lick. Rob also sometimes puts seaweed meal in the with dolomite for trace elements.
Rob doesn't drench his sheep, good management means it's not necessary. He does, however, dock the tails of his sheep because docked sheep sell better at the sale yards. If he's selling through New Horizon to a buyer like us, it's not necessary. We would, of course, prefer that he didn't dock but we also acknowledge that there aren't enough buyers like us out there to take all Rob's lambs and he must give himself the option of selling through the conventional auction system.  
'Aussie White' pregnant and lactating ewes feeding at Mayfield Farm, 30 July 2018.
2. Wallendbeen Park, 40 km south of Young
We raved about the Berkshire pigs of Wallendbeen Park when we first visited in early November 2017 - read the 'Pigs of Wallendbeen Park' here. So we'll try not to repeat ourselves.
Briefly, Christoph Preussman and Annie Jacobs own Wallendbeen Park which is 150 acres carved off from a much bigger, family-owned farm. The two sons were given the working parts and the daughters were given this block with the house on it. Annie, one of the daughters, lives here with her husband, Christoph, surrounded by cousins and siblings.
Christoph and Annie run eight sows and one Berkshire boar and they're hoping to get to 90 sale porkers a year. The photo below of the growers feeding in the yards shows the sale pigs, the largest four of which will be coming to us via the abattoir next week. 
Coming face to face with the live animals you'll shortly be receiving as carcasses is always a confronting, poignant and humbling experience. It's not a bad thing, (in fact it's a privilege - how many people get to meet their meat before eating it?) but it highlights the fact that this is a life we've chosen to take. 

The video below show three sows that are recently (late) weaned and in the recovery paddock having a nice time before they are mated again. They're feeding on cracked corn sourced from a local mill mixed with custom-made pig feed (un-medicated, no meat meal, non GMO) and windfall pears from the farm orchard.  


3. Saulsbury Berkshires, 20 km north east of Boorowa
We first started selling Lisa and Tod Dennett's Saulsbury Berkshire pigs early in 2014 when they were living at 'Fairview', the Boardman family farm at Camden. We wrote about these remarkable farmers and the experience of visiting Fairview and meeting the pigs that would be delivered to us as carcasses in 'Looking the animal in the eye'.    
Since then, Lisa and Todd have moved to their own farm, continued breeding Berkshires and their gorgeous boar, Sebastian, won the 'Best in Show' prize at this year's Royal Easter Show. Read about it here. 
This was our first visit to the new farm located at Frogmore, 20 km north east of Boorowa and the couple haven't been there long. Lisa moved in with their three kids in January and Todd has only just permanently re-located in May. It's a very different sort of farm from Fairview.
Previously owned for the last 30 years by an absentee landlord, the farm was sorely neglected and is quite dilapidated and requires a lot of work. Building critical infrastructure is the first step and this will occupy them for the next few years but the bones of the place are good, with permanent creek and water from a spring high on the hill that they can reticulate around the various paddocks.
It's a daunting task but there's absolutely no doubt that this incredibly determined, energetic and intelligent couple can do it and it will be fascinating to watch them transform it over time into a model regenerative farm.
While they're busy rebuilding the farm, they'll continue their successful pig breeding programme with Sebastian (the RAS star) and another boar. We buy their excess, late-weaned weaners. They're also growing Wiltshire Horn sheep and we expect to receive the first delivery of these shortly.
Tod discusses the weather with the pigs: 3-8 degrees all day.
Lisa with the new Wiltshire Horn sheep and shed construction in the background.
This pile of napping weaner pigs includes four that we will be receiving next week and the balance the week after.